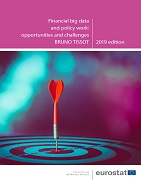 Financial big data and policy work: opportunities and challenges — 2019 edition
Public authorities working in the financial sphere have shown an increasing interest for big data. On the supply side, the amount of information at hand has boomed, reflecting not only the internet revolution, but also all the various initiatives launched after the financial crisis of 2007-09 to make a better use of existing sources of information – including, but not only, digital sources – and start new data collections, often on a very large scale.
As a result, "Financial Big Data" are quite specific. They primarily consist of the very large though relatively well-structured data sets derived from administrative and financial activities, for which new private data sources can play a major role.
Accessing these data can provide many opportunities for public authorities like central banks. But specific challenges also arise when handling these data and using them to support policy. In practice, this calls for being both pragmatic – ie starting with small pilot projects when exploring the financial big data universe – and ambitious – ie taking this opportunity to revisit existing information systems in a holistic way.
These various dilemma can be illustrated by two data collections of particular importance for central banks, one on derivatives transactions and one on the issuance of debt securities. [+]